Our SA8 engagement methodology is a proven process that governs and directs all diverse skills and expertise needed for a successful website. From the initial engagement definition, to solution delivery. SA8 consists of eight distinct, clearly delineated stages that provide our clients with clear expectations of both the engagement process and the solutions to be provided.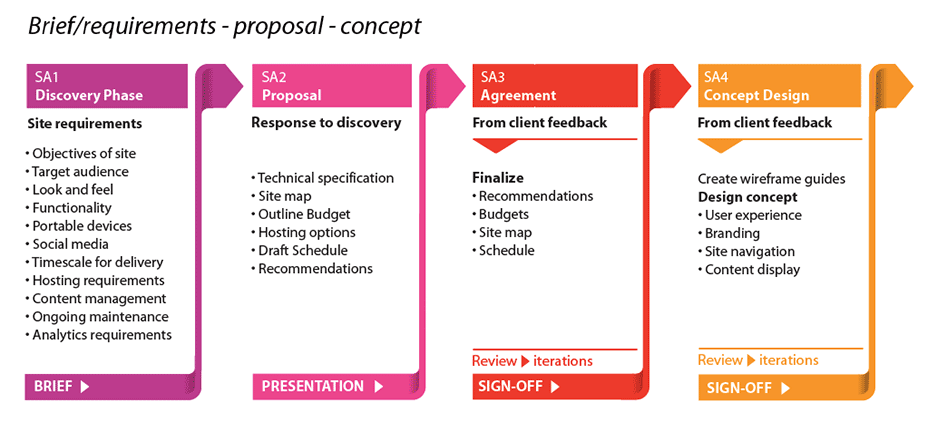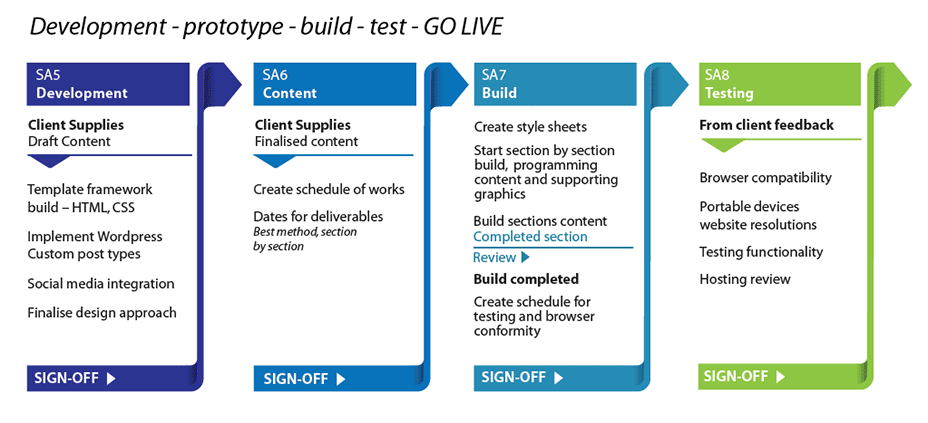 Collect information relevant to the engagement objective. Market research, industry analysis, competitive analysis ~ getting to know your business and goals.
(This may be a paid process depending on the scale and context of the project)
Objectives of site
Target audience
Look and feel
Functionality
Portable devices
Social media
Timesframe for delivery
Hosting requirements
Content management
Ongoing maintenance
Analytics requirements
.
Formulate budget and internet business strategy based on the discovery phase.
Technical specification
Site map
Outline Budget
Hosting options
Draft Schedule
Draft Schedule
Recommendations
.
From client feedback
Finalize Recommendations
Finalize Budgets
Finalize Site map
Finalize Schedule
.
This is where we refine and document specifications of the internet business strategy. Before executing the project designs, there is thoughtful consideration of target audiences, positioning, and market opportunities. We infuse user interface concepts and our processes to activate the exact brand voice for each project. Business strategy makes all the difference in website design.
From client feedback
Create wireframe guides
Design concept
User experience
Branding
Site navigation
Content display
.
O.K. now it's time to build the elements required to implement the internet business strategy.
Client Supplies Draft Content
Template framework build – HTML, CSS
Implement WordPress Custom post types and Taxonomies
Social media integration
Finalize design approach
.
One of the most challenging elements of creating a website is making sure we have content and know how to organize it.
Client Supplies Finalised content
Create schedule of works
Dates for deliverables
Best method, section by section
.
We deliver effective solutions.
Create style sheets
Start section by section build, programming content and supporting graphics
Build section content
Build completed
Create schedule for testing and browser conformity
.
From client feedback
From client feedback
Browser compatibility
Portable devices website resolutions
Testing functionality
Hosting review
.